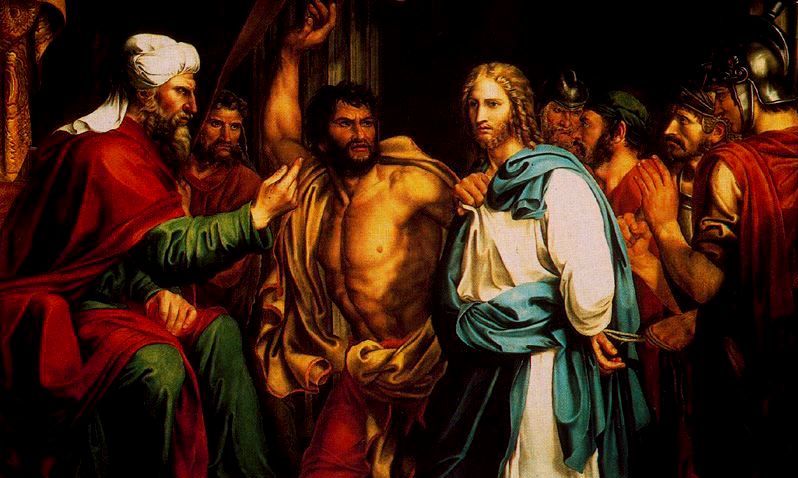 RETURN TO MAIN ARTICLE – Even Jesus Would Be Called A "Cult-Leader"
1. The group is elitist, claiming a special, exalted status for itself, its leader(s), and members (for example: the leader is considered the Messiah or an avatar; the group and/or the leader has a special mission to save humanity).
"I am the way, the truth, and the life. No one comes to the Father except through Me."
~ John 14:6 HCSB

"For God so loved the world that he gave his one and only Son, that whoever believes in him shall not perish but have eternal life. For God did not send his Son into the world to condemn the world, but to save the world through him. Whoever believes in him is not condemned, but whoever does not believe stands condemned already because he has not believed in the name of God's one and only Son."
~ John 3:16-18 NIV

"…Whoever wants to become great among you must be your servant, and whoever wants to be first among you must be your salve; just as the Son of Man did not come to be served, but to serve, and to give His life—a ransom for many."
~ Matthew 20:26-28 HCSB

The high priest stood up before them all and questioned Jesus, "Don't you have an answer to what these men are testifying against You?" But He kept silent and did not answer anything. Again the high priest questioned Him, "Are You the Messiah, the Son of the Blessed One!" "I am," said Jesus, "and all of you will see the Son of Man seated at the right hand of the Power and coming with the clouds of heaven."
~ Mark 14:60-62 HCSB
2. The group is focused on a living leader to whom members seem to display excessively zealous, unquestioning commitment.
He asked His disciples, "Who do people say that the Son of Man is?" And they said, "Some say John the Baptist; others Elijah; still others, Jeremiah or one of the prophets." "But you, "He asked them, "who do you say I am?" Simon Peter answered, "You are the Messiah, the Son of the living God!"
~ Matthew 16:13-16 HCSB

They brought the man who used to be blind to the Pharisees. The day that Jesus made the mud and opened his eyes was a Sabbath. So again the Pharisees asked him how he received his sight. "He put mud on my eyes," he told them. "I washed and I can see." Therefore some of the Pharisees said, "This man is not from God, for He doesn't keep the Sabbath!" But others were saying, "How can a sinful man perform such signs?" And there was a division among them. Again they asked the blind man, "What do you say about Him, since He opened your eyes?" "He's a prophet," he said…Then they asked him, "What did He do to you? How did He open your eyes?" "I already told you," he said, and you didn't listen. Why do you want to hear it again?"
~ John 9:13-17, 26-27 HCSB

Many people spread their robes on the road, and others spread leafy branches cut from the fields. Then those who went ahead and those who followed kept shouting: Hosanna! Blessed is He who comes in the name of the Lord! Blessed is the coming kingdom of our father David! Hosanna in the highest heaven!
~ Mark 11:8-10 HCSB

Peter told Him, "Even if everyone runs away because of You, I will never run away!" "I assure you," Jesus said to him, "tonight, before the rooster crows, you will deny Me three times!" "Even if I have to die with You," Peter told Him, "I will never deny You!" And all the disciples said the same thing.
~ Matthew 26:33-35 HCSB

Then they came up, took hold of Jesus, and arrested Him. At that moment one of those with Jesus reached out his hand and drew his sword. He struck the high priest's slave and cut off his ear.
~ Matthew 26:50-51 HCSB
3. The group teaches or implies that its supposedly exalted ends justify means that members would have considered unethical before joining the group.
One man who was there had been sick for 38 years. When Jesus saw him lying there and knew he had already been there a long time, He said to him, "Do you want to get well?" "Sir," the sick man answered, "I don't have a man to put me into the pool when the water is stirred up, but while I'm coming, someone goes down ahead of me." "Get up," Jesus told him, "pick up your mat and walk!" Instantly the man got well, picked up his mat, and started to walk. Now that day was the Sabbath, so the Jews said to the man who had been healed, "This is the Sabbath! It's illegal for you to pick up your mat."…Therefore, the Jews began persecuting Jesus because He was doing these things on the Sabbath.
~ John 5:5-10, 16 HCSB

At the time Jesus passed through the grainfields on the Sabbath. His disciples were hungry and began to pick and eat some heads of grain. But when the Pharisees saw it, they said to Him, "Look, Your disciples are doing what is not lawful to do on the Sabbath!"
~ Matthew 12:1-2 HCSB

Moving on from there, He entered their synagogue. There He saw a man who had a paralyzed hand. And in order to accuse Him they asked Him, "Is it lawful to heal on the Sabbath?" But He said to them, "What man among you, if he had a sheep that fell into a pit on the Sabbath, wouldn't take hold of it and lift it out? A man is worth far more than a sheep, so it is lawful to do what is good on the Sabbath."Then he told the man, "Stretch out your hand." So he stretched it out, and it was restored, as good as the other. But the Pharisees went out and plotted against Him, how they might destroy Him.
~ Matthew 12:9-14 HCSB

Then the Pharisees and scribes came from Jerusalem to Jesus and asked, "Why do your disciples break the tradition of the elders? For they don't wash their hands when they eat!"
~ Matthew 15:1-2 HCSB

"Disregarding the command of God, you keep the tradition of men." He also said to them, "You completely invalidate God's command in order to maintain your tradition!"
~ Mark 7:8-10 HCSB

All the tax collectors and sinners were approaching to listen to Him. And the Pharisees and scribes were complaining, "This man welcomes sinners and eats with them!"
~ Luke 15:1-2 HCSB
4. Members' subservience to the group causes them to cut ties with family and friends, and to give up personal goals and activities that were of interest before joining the group.
Then Jesus said to His disciples, "If anyone wants to come with Me, he must deny himself, take up his cross, and follow Me. For whoever wants to save his life will lose it, but whoever loses his life because of Me will find it. What will it benefit a man if he gains the whole world yet loses his life? Or what will a man give in exchange for his life?"
~ Matthew 16:24-26 HCSB

"No one can be a slave of two masters, since either he will hate one and love the other, or be devoted to one and despise the other. You cannot be slaves of God and of money."
~ Matthew 6:24 HCSB

"If anyone comes to Me and does not hate his own father and mother, wife and children, brother and sister—yes, and even his own life—he cannot be My disciple. Whoever does not bear his own cross and come after Me cannot be My disciple."
~ Luke 14:26-27 HCSB

"In the same way, therefore, every one of you who does not say good-bye to all his possessions cannot be My disciple."
~ Luke 14:33 HCSB

Then He told them a parable: "A rich man's land was very productive. He thought to himself, 'What should I do, since I don't have anywhere to store my crops? 'I will do this,' he said. 'I'll tear down my barns and build bigger ones and store all my grain and my goods there. Then I'll say to myself, "You have many goods store up for many years. Take it easy; eat, drink, and enjoy yourself".' But God said to him, 'You fool! This very night your life is demanded of you. And the things you have prepared—whose will they be?' That's how it is with the one who stores up treasure for himself and is not rich toward God."
~ Luke 12:16-21 HCSB

"The one who loves his life will lose it, and the one who hates his life in this world will keep it for eternal life. If anyone serves Me, he must follow Me."
~ John 12:25-26 HCSB

Peter began to tell Him, "Look, we have left everything and followed You."' "I assure you," Jesus said, "there is no one who has left house, brothers or sisters, mother or father, children, or fields because of Me and the gospel, who will not receive 100 times more, now at this time—houses, brothers and sisters, mothers and children, and fields, with persecutions—and eternal life in the age to come."
~ Mark 10:28-30 HCSB
5. The group has a polarized us-versus-them mentality, which causes conflict with the wider society.
"Anyone who is not with Me is against Me, and anyone who does not gather with Me scatters."
~ Matthew 12:30 HCSB

"Don't assume that I came to bring peace on the earth. I did not come to bring peace, but a sword. For I came to turn
a man against his father,
a daughter against her mother,
a daughter-in-law against her mother-in-law;
and a man's enemies will be
the members of his household.
The person who loves father or mother more than Me is not worthy of Me; the person who loves son or daughter more than Me is not worthy of Me. And whoever doesn't take up his cross and follow Me is not worthy of Me. Anyone finding his life will lose it, and anyone losing his life because of Me will find it."
~ Matthew 10:34-39 HCSB
6. The group's leader is not accountable to any authorities (as are, for example, military commanders and ministers, priests, monks, and rabbis of mainstream denominations).
"I am the light of the world. Anyone who follows Me will never walk in darkness but will have the light of life." So the Pharisees said to Him, "You are testifying about Yourself. Your testimony is not valid." "Even if I testify about Myself, "Jesus replied, "My testimony is valid, because I know where I came from and where I'm going. But you don't know where I come from or where I'm going. You judge by human standards. I judge no one. And if I do judge, My judgment is true because I am not alone, but I and the Father who sent Me judge together. Even in your law it is written that the witness of two men is valid. I am the One who testifies about Myself, and the Father who sent Me testifies about Me."
~ John 8:12-18 HCSB

"For I have not spoken of My own, but the Father Himself who sent Me has given Me a command as to what I should say and what I should speak. I know that His command is eternal life. So the things that I speak, I speak just as the Father has told Me."
~ John 12:49-50 HCSB

"But as for you, do not be called 'Rabbi,' because you have on Teacher, and you are all brothers. Do not call anyone on earth your father, because you have one Father, who is in heaven. And do not be called masters either, because you have one Master, the Messiah."
~ Matthew 23:8-10 HCSB
7. Members are expected to devote inordinate amounts of time to the group.
When He saw the crowds, He felt compassion for them, because they were weary and worn out, like sheep without a shepherd. Then He said to His disciples, "The harvest is abundant, but the workers are few. Therefore, pray to the Lord of the harvest to send out workers into His harvest." Summoning His twelve disciples, He gave them authority over unclean spirits, to drive them out and to heal every disease and sickness…Jesus sent out these 12 after giving them instructions.
~ Matthew 9:36-38, 10:1, 5 HCSB

[the disciples] So they went out and traveled from village to village, proclaiming the good news and healing everywhere.

~ Luke 9:6 HCSB

Sitting down, He called the Twelve and said to them, "If anyone wants to be first, he must be last of all and servant of all."
~ Mark 9:35 HCSB

"Lord," he said, "first let me go bury my father." But He told him, "Let the dead bury their own dead, but you go and spread the news of the kingdom of God." Another also said, "I will follow You, Lord, but first let me go and say good-bye to those at my house." But Jesus said to him, "No one who puts his hand to the plow and looks back is fit for the kingdom of God."
~ Luke 9:59-62 HCSB

8. The group is preoccupied with bringing in new members.

As He was walking along the Sea of Galilee, He saw two brothers, Simon, who was called Peter, and his brother Andrew. They were casting a net into the sea, since they were fishermen. "Follow Me," He told them, "and I will make you fish for people!" Immediately they left their nets and followed Him.
~ Matthew 4:18-20 HCSB

Then Jesus went to all the towns and villages, teaching in their synagogues, preaching the good news of the kingdom, and healing every disease and every sickness.
~ Matthew 9:35 HCSB

The 11 disciples traveled to Galilee, to the mountain where Jesus had directed them. When they saw Him, they worshiped, but some doubted. The Jesus came near and said to them, "All authority has been given to Me in heaven and on earth. Go, therefore, and make disciples of all nations, baptizing them in the name of the Father and of the Son and of the Holy Spirit, teaching them to observe everything I have commanded you."
~ Matthew 28:16-20 HCSB

9. The group is preoccupied with making money.

Soon afterward He was traveling from one town and village to another, preaching and telling the good news of the kingdom of God. The Twelve were with Him, and also some women who had been healed of evil spirits and sicknesses: Mary, called Magdalene (seven demons had come out of her); Joanna the wife of Chuza, Herod's steward; Susanna; and many others who were supporting them from their possessions.
~ Luke 81:1-3 HCSB

*Note: in the example above we see the principle of fundraising—people giving materially so that Jesus and the disciples are able to devote their time to helping others spiritually. Today, in the US it is a requirement of religious tax exempt organizations that they run largely on donations, and indeed they must do this to survive.

Sitting across from the temple treasury, He watched how the crowd dropped money into the treasury. Many rich people were putting in large sums. And a poor widow came and dropped in two tiny coins worth very little. Summoning His disciples, He said to them, "I assure you: This poor widow has put in more than all those giving to the temple treasury. For they all gave out of their surplus, but she out of her poverty has put in everything she possessed—all she had to live on."
~ Mark 12:41-44 HCSB

10. Questioning, doubt, and dissent are discouraged or even punished.

In the synagogue there was a man with an unclean demonic spirit who cried out with a load voice, "Leave us alone! What do You have to do with us, Jesus—Nazarene? Have You come to destroy us? I know who You are—the Holy One of God!" But Jesus rebuked him and said, "Be quiet and come out of him!" And throwing him down before them, the demon came out of him without hurting him at all.
~ Luke 4:33-35 HCSB

"You unbelieving and rebellious generation! How long will I be with you? How long must I put up with you?"
~ Matthew 17:17 HCSB

"For if you do not believe that I am He, you will die in your sins."
~ John 8:24 HCSB

"Why don't you understand what I say? Because you cannot listen to My word. You are of your father the Devil, and you want to carry out your father's desires."
~ John 8:43-44 HCSB

"Snakes! Brood of vipers! How can you escape being condemned to hell? This is why I am sending you prophets, sages, and scribes. Some of them you will kill and crucify, and some of them you will flog in your synagogues and hound from town to town. So all the righteous blood shed on the earth will be charged to you…"
~ Matthew 23:33-35 HCSB

Later, He appeared to the Eleven themselves as they were reclining at the table. He rebuked their unbelief and hardness of heart, because they did not believe those who saw Him after He had been resurrected.
~ Mark 16:14 HCSB

11. Mind-numbing techniques (such as meditation, chanting, speaking in tongues, denunciation sessions, debilitating work routines) are used to suppress doubts about the group and its leader(s).

"Have faith in God. I assure you: If anyone says to this mountain, 'Be lifted up and thrown into the sea,' and does not doubt in his heart, but believes that what he says will happen, it will be done for him. Therefore, I tell you, all the things you pray and ask for—believe that you have received them, and you will have them."
~ Mark 11:22-24 HCSB

Keep asking, and it will be given to you. Keep searching, and you will find. Keep knocking, and the door will be opened to you.
~ Matthew 7:7 HCSB

Then He came to the disciples and found them sleeping. He asked Peter, "So, couldn't you stay awake with Me one hour? Stay awake and pray, so that you won't enter into temptation. The spirit is willing, but the flesh is weak."
~ Matthew 26:40-41 HCSB

12. The leadership dictates sometimes in great detail how members should think, act, and feel (for example: members must get permission from leaders to date, change jobs, get married; leaders may prescribe what types of clothes to wear, where to live, how to discipline children, and so forth).

"You have heard that it was said, Do not commit adultery. But I tell you, everyone who looks at a woman to lust for her has already committed adultery with her in his heart. If your right eye causes you to sin, gouge it out and throw it away. For it is better that you lose one of the parts of your body than for your whole body to be thrown into hell. And if your right hand causes you to sin, cut it off and throw it away. For it is better that you lose one of the parts of your body that for your whole body to go into hell!"
~ Matthew 5:27-30 HCSB

Just then someone came up and asked Him, "Teacher, what good must I do to have eternal life?" "Why do you ask Me about what is good?" He said to him. "There is only One who is good. If you want to enter into life, keep the commandments." "Which ones?" he asked Him. Jesus answered," Do not murder; do not commit adultery; do not steal; do not bear false witness; honor your father and your mother; and love your neighbor as yourself." "I have kept all these," the young man told Him, "What do I still lack?" "If you want to be perfect, Jesus said to him, "go, sell your belongings and give to the poor, and you will have treasure in heaven. Then come, follow Me."
~ Matthew 19:16-21 HCSB

13. The leadership induces guilt feelings in members in order to control them.

"Why do you look at the speck in your brother's eye but don't notice the log in your own eye? Or how can you say to your brother, 'Let me take the speck out of your eye,' and look, there's a log in your eye? Hypocrite! First take the log out of your eye, and then you will see clearly to take the speck out of your brother's eye".
~ Matthew 7:3-5 HCSB

At that time, some people came and reported to Him about the Galileans whose blood Pilate had mixed with their sacrifices. And He responded to them, "Do you think that these Galileans were more sinful than all Galileans because they suffered these things? No, I tell you; but unless you repent, you will all perish as well!"
~ Luke 13:1-3 HCSB

14. Members are encouraged or required to live and/or socialize only with other group members.

He was still speaking to the crowds when suddenly His mother and brothers were standing outside wanting to speak to Him. Someone told Him, "Look, Your mother and Your brothers are standing outside, wanting to speak to You." But He replied to the one who told Him, "Who is My mother and who are My brothers?" And stretching out His hand toward His disciples, He said, "Here are My mother and My brothers! For whoever does the will of My Father in heaven, that person is My brother and sister and mother."
~ Matthew 12:46-50 HCSB

Then He said to them [the disciples], "Whenever you enter a house, stay there until you leave that place. If any place does not welcome you and people refuse to listen to you, when you leave there, shake the dust off your feet as a testimony against them."
~ Mark 6:10-11 HCSB

The apostles gathered around Jesus and reported to Him all that they had done and taught. He said to them, "Come away by yourselves to a remote place and rest a while." For many people were coming and going, and they did not even have time to eat.
~ Mark 6:30-31 HCSB

"For whoever is not against us is for us. And whoever gives you a cup of water to drink because of My name, since you belong to the Messiah—I assure you: He will never lose his reward."
~ Mark 9:40-41 HCSB

"For where two or three are gathered together in My name, I am there among them."
~ Matthew 18:20 HCSB

That was a complete list, but here are a few other criteria also used:

Leading figures, either alive or dead, are honored and venerated. Statements are often supported by quotations and sayings from sacred writings or speeches. Predictions of catastrophe or damnation are common.

He entered the synagogue on the Sabbath day and stood up to read. The scroll of the prophet Isaiah was given to Him, and unrolling the scroll, He found the place where it was written:
The Spirit of the Lord is on Me,
because He has anointed Me
to preach good news to the poor.
He has sent Me
to proclaim freedom to the captives
and recovery of sight to the blind,
to set free the oppressed,
to proclaim the year of the Lord's favor.
He then rolled up the scroll, gave it back to the attendant, and sat down. And the eyes of everyone in the synagogue were fixed on Him. He began by saying to them, "Today as you listen, this Scripture has been fulfilled."
~ Luke 4:16-21 HCSB

"Immediately after the tribulation of those days: The sun will be darkened, and the moon will not shed its light; the stars will fall from the sky, and the celestial powers will be shaken. Then the sign of the Son of Man will appear in the sky, and then all the peoples of the earth will mourn; and they will see the Son of Man coming on the clouds of heaven with power and great glory. He will send out his angels with a loud trumpet, and they will gather His elect from the four winds, from one end of the sky to the other."
~ Matthew 24:29-31 HCSB

Members are told that they will be destroyed or corrupted by negative pressures, and that they can maintain their purity only within the group's ranks.

"Enter through the narrow gate. For the gate is wide and the road is broad that leads to destruction, and there are many who go through it. How narrow is the gate and difficult the road that leads to life, and few find it. Beware of false prophets who come to you in sheep's clothing but inwardly are ravaging wolves."
~ Matthew 7:13-15 HCSB

Then He proceeded to denounce the towns where most of His miracles were done, because they did not repent: "Woe to you, Chorazin! Woe to you, Bethsaida! For if the miracles that were done in you had been done in Tyre and Sidon, they would have repented in sackcloth and ashes long ago! But I tell you, it will be more tolerable for Tyre and Sidon on the day of judgment than for you. And you, Capernaum, will you be exalted to heaven? You will go down to Hades."
~ Matthew 11:20-23 HCSB

"If anyone tells you then, 'Look, here is the Messiah!' or, 'Over here!' do not believe it! False messiahs and false prophets will arise and perform great signs and wonders to lead astray, if possible, even the elect."
~ Matthew 24:23-24 HCSB

Whenever historical facts or the truth doesn't fit in with the cult leader's designs and aspirations, they simply change it.

When some from the crowd heard these words, they said, "This really is the Prophet!" Others said, "This is the Messiah!" But some said, "Surely the Messiah doesn't come from Galilee, does He? Doesn't the Scripture say that the Messiah comes from David's offspring and from the town of Bethlehem, where David once lived?" So a division occurred among the crowd because of Him.
~ John 7:40-43 HCSB

The Jews replied, "You aren't 50 years old yet, and You've seen Abraham?" Jesus said to them, "I assure you: Before Abraham was, I am."
~ John 8:57-58 HCSB

Therefore the Jews started complaining about Him, because He said, "I am the bread that came down from heaven." They were saying, "Isn't this Jesus the son of Joseph, whose father and mother we know? How can He now say, 'I have come down from heaven'?"
~ John 6:41-42 HCSB

The direction of the group comes from a shadowy leadership, rarely seen and with little or no real democratic controls.

When He entered the temple complex, the chief priests and the elders of the people came up to Him as He was teaching and said, "By what authority are You doing these things? Who gave You this authority?" Jesus answered them, "I will also ask you one question, and if you answer it for Me, then I will tell you by what authority I do these things. Where did John's baptism come from? From heaven or from men?" They began to argue among themselves, "If we say, 'From heaven,' He will say to us, 'Then why didn't you believe him?' But if we say, 'From men,' we're afraid of the crowd, because everyone thought John was a prophet." So they answered Jesus, "We don't know." And He said to them, "Neither will I tell you by what authority I do these things."
~ Matthew 21:23-27 HCSB

Then the Pharisees went and plotted how to trap Him by what He said. They sent their disciples to Him, with the Herodians. "Teacher," they said, "we know that You are truthful and teach truthfully the way of God. You defer to no one, for You don't show partiality. Tell us, therefore, what You think. Is it lawful to pay taxes to Caesar or not? But perceiving their malice, Jesus said, "Why are you testing Me, hypocrites? Show Me the coin used for the tax." So they brought Him a denarius. "Whose image and inscription is this?" He asked them. "Caesar's," they said to Him. Then He said to them, "Therefore, give back to Caesar the things that are Caesar's, and to God the things that are God's."
~ Matthew 22:15-21 HCSB

In general, new members are usually undergoing a personal crisis and are easy prey for all-embracing solutions.

While he was reclining at the table in the house, many tax collectors and sinners came as guests to eat with Jesus and His disciples. When the Pharisees saw this, they asked His disciples, "Why does your Teacher eat with tax collectors and sinners?" But when He heard this, He said, "Those who are well don't need a doctor, but the sick do. Go and learn what this means: I desire mercy and not sacrifice. For I didn't come to call the righteous, but sinners."
~ Matthew 9:10-13 HCSB

"Come to Me, all of you who are weary and burdened, and I will give you rest. All of you, take up My yoke and learn from Me, because I am gentle and humble in heart, and you will find rest for yourselves. For My yoke is easy and My burden is light."
~ Matthew 11:28-30 HCSB

The group supplies ready-made answers for everything, thus helping to reduce insecurity and fear. Everything is seen in terms of black and white, pure and the impure, good and evil.

His disciples approached Him and said, "Explain the parable of the weeds in the field to us." He replied: "The One who sows the good seed is the Son of Man; the field is the world; and the good seed—these are the sons of the kingdom. The weeds are the sons of the evil one, and the enemy who sowed them is the Devil. The harvest is the end of the age, and the harvesters are angels. Therefore just as the weeds are gathered and burned in the fire, so it will be at the end of the age. The Son of Man will send out His angels, and they will gather from His kingdom everything that causes sin and those guilty of lawlessness. They will throw them into the blazing furnace where there will be weeping and gnashing of teeth. Then the righteous will shine like the sun in their Father's kingdom."
~ Matthew 13:36-43 HCSB

RETURN TO MAIN ARTICLE – Even Jesus Would Be Called A "Cult-Leader"