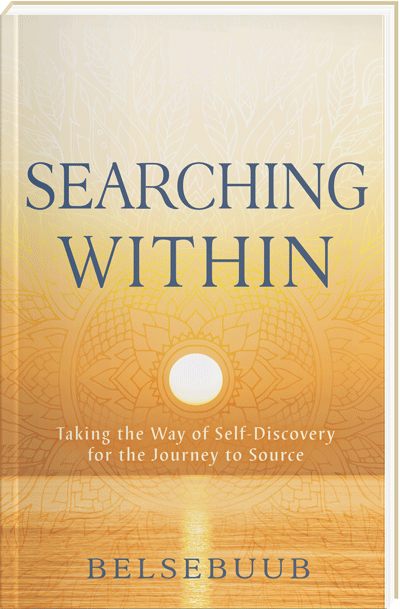 A TRUE SPIRITUAL JOURNEY BEGINS WITHIN
The most effective handbook on self-discovery there is.
THIS BOOK IS NO LONGER AVAILABLE
Recommended Retail Price (RRP):
USD $12.95 ~ GBP £8.95 ~ EURO €9.95 ~ AUD/CAD $15.95
Belsebuub receives no payments or royalties
from the sale of this book. Find out why
This book was downloaded over 18,000 times as a free eBook between 2012 and 2016, and is based on the hugely popular Searching Within online course by Belsebuub from 2001 taken by tens of thousands of people worldwide until 2010. It is now only available for purchase as a paperback book due to being extensively plagiarized while in digital formats.

The search for who we are, and the deeper purpose of existence, is ultimately an inner quest. Searching Within provides the tools and information to set out on this inward journey.
It explains why acquiring self-knowledge is so important for any kind of profound inner change, and how it can bring many benefits to one's life and the world. Belsebuub explains how using the timeless principles of self-discovery, one can observe and understand their subconscious, with its many drives and desires, and uncover the causes of suffering within themselves—and at the same time, develop their consciousness, the source of inner peace and love, and the spiritual part we all carry within.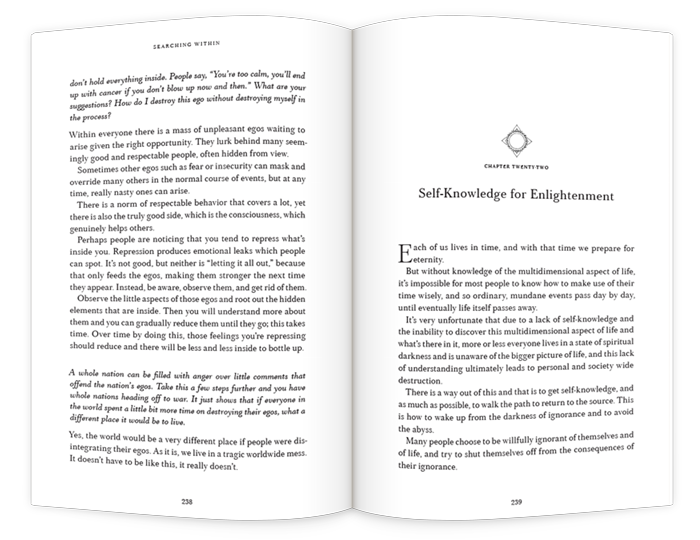 Interspersed throughout the book are a series of the most effective and powerful exercises for self-discovery, which can be put into practice in daily life, and used to acquire one's own personal experience. With detailed, clear, precise, and yet simple explanations, this book is the most effective handbook on self-discovery there is and provides a firm foundation and beginning to the inner journey back to source.
"If taken, the journey leads us further and further within, and at the same time, deeper and deeper into the mysteries of creation. As we penetrate into our own psyche, we penetrate into the very heart of the cosmos. If taken far enough, this journey leads to the reunion with one's divine Being and the very source of creation itself."
~ Belsebuub, Searching Within
Why self-knowledge is important for a spiritual journey

How self-discovery can help one's life and the world

How to act in a more conscious way

The structure of the psyche from a multi-dimensional point of view

What our dreams tell us about ourselves
Why we have anger, hatred, fears, etc. within, and how these states can be overcome

How to use daily living for inner change

Dealing with common issues like depression, negativity, drugs, alcohol, and addictions

How to be in the present moment

How to increase love, wisdom, happiness, peace, and mystical perceptions
What egos are and how they cause suffering within us and the world

How opposition and suffering are needed for learning and spiritual growth

The role different relationships play in any quest for inner change

Using self-knowledge for enlightenment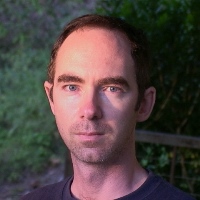 Belsebuub is the author of a number of books on out-of-body experiences, dreams, self-discovery, and the journey to enlightenment. An early edition of his book The Astral Codex was a bestseller in its genre, and Gazing into the Eternal was a finalist in the Best Book Awards 2009 in Spirituality. He has appeared on radio and television programs internationally, and writes from decades of spiritual and mystical experience.
Why We Don't Receive Royalties
We believe spirituality is not something you can price tag, and that it should be passed onto others just as freely as it's received from the universe. We work in the ancient and time-honored way of running on what people give voluntarily in donations alone. In line with this principle, we used to give all our books away as free eBooks – Self-Knowledge for Spiritual Awakening was downloaded over 18,000 times. However, they were so extensively plagiarized that we've had to provide them as paperback books instead. We continue not to receive any payments from their sale, which helps keep their price as close to cost as possible.
Find out more