LATEST FROM THE BLOG



We can destroy so much actual good when we think we're doing good. Sounds like a paradox—how could doing "good" ever be a bad thing?
Egos that make us feel good about ourselves can do just as much harm as those that are openly negative, and can lead us to commit terrible acts of injustice against others even though on the surface the cause may appear moral and right.
So often there's a set of pleasing but blinding feelings that accompany doing what we believe to be "good"—an air of being right, a feeling of self-satisfaction, a teary twang of heartstrings, and even a sense of superiority…
Whole organizations, movements, and political ideologies from far left to right, have been formed by those who unconsciously enjoy feeling good about themselves and their own sense of do-gooding.
Holding a good cause like the tenet of some religion, the fanatical tendency to aggressively suppress and attack […]
Have you ever had a moment where you felt a heightened sense of awareness in which you could tune into your environment and people around you, allowing you to perceive things you wouldn't normally? Or have you ever experienced becoming aware in a dream in which you were then able to start making decisions within the dream world (called lucid dreaming)? What about a moment of love and compassion where you could actually feel what another person or animal was going through almost as if you were them?
...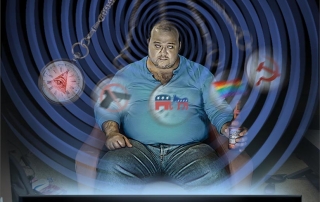 Fear, mind-numbing entertainments, junk food, propaganda, violence, drug use, pornography, slobbishness, adultery, and materialism all promoted through movies, music, fashion, "education", and advertising, are assailing our senses constantly. But why the barrage that seems to be engulfing everything in its wake as it increasingly snowballs, taking all that is good in society and everyone down with it—creating a dumbed-down, aggressive, ignorant, passive, and spiritually blind population? Whilst events always seem to
...
Our eBooks have been downloaded over
FREE EBOOKS

The best hands-on guide for developing consciousness there is, with in-depth explanations and exercises for daily living. Based on the hugely popular Searching Within online course by Belsebuub taken by 10's of thousands of people worldwide.
A clear and easy to understand look at some of the most profound eternal questions we all face, such as what happens with death, is it possible to have the divine within, what are the real causes of human suffering, and how is it possible to explore spiritual realities?
The Awakening of Perception brings together over 40 articles by Belsebuub, shedding light on some of today's most intriguing spiritual topics including: out-of-body experiences, the supernatural influence behind world events, whether there is a global awakening happening today, near-death experiences, dreams, ancient spiritual knowledge, and more.