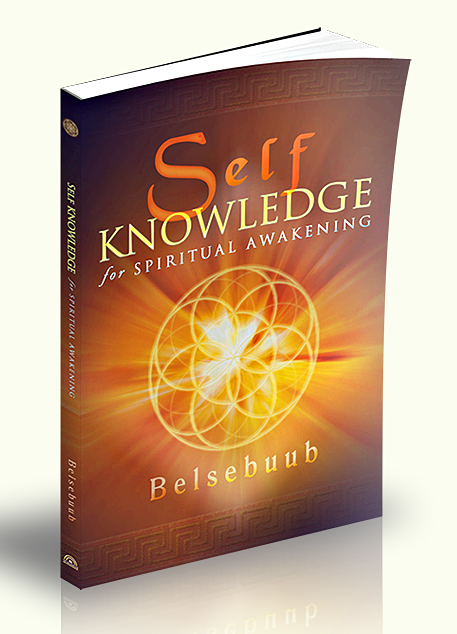 Self-Knowledge for Spiritual Awakening
Most live life asleep to the greater realities of the universe, but there is a way to wake up and see beyond what is normally perceived. In ancient sacred teachings, "knowing thyself" is the first step.

In Self-Knowledge for Spiritual Awakening embark on a journeyΒ  of self-discovery through the timeless, universal, and ancient form of esoteric psychology found at the root of the world's great spiritual teachings. Discover how spiritual transformation becomes possible through personal exploration, allowing an individual to permanently increase in consciousness, wisdom, love, and happiness. In over 22 chapters, Belsebuub outlines the multi-dimensional structure of the psyche beyond what modern science has been able to understand, and gives the key spiritual exercises used to unlock the mystery of what lies within each person.
From the book, β€œUltimately, it's the internal world that the external world is experienced through; life is what is experienced inwardly. This is where to look for the starting point of change. If a lot of people changed, this world would be very different, peace and intelligence could reign, and there could be enlightened individuals. Having self-knowledge is empowering and sets a person free..."


.



Based on the hugely popular Searching Within online course by Belsebuub taken by 10′s of thousands of people worldwide
Having trouble? Don't know what to do? Check the FAQ.
.
.
* PLEASE NOTE for step by step instructions, please see the FAQ
.
.

What's Inside the Book

Self-Knowledge for Spiritual Awakening is a comprehensive and practical guide to the starting point of genuine spiritual development. Over 22 chapters, it explains

The multi-dimensional structure of the human psyche and how it works
The difference between esoteric/ancient psychology and modern, conventional psychology
The reason why there is hatred, greed, violence, and destruction etc. in the world and our lives
The origin of true intelligence, peace, and love that has the potential to radically alter our lives, who we are, and the world
How to overcome negative states like depression, Β and deal with addictions
How to live in the present moment, and find love and peace within
How to observe thoughts and emotions in order to understand them and ultimately change them permanently
How dreams and out-of-body experiences can be used for self-discovery
Key timeless and practical spiritual exercises for gaining self-knowledge, and how to use them in daily life

β€œEveryone has the ability to change far more radically than is usually assumed. Just because the information on how to do this is currently obscure or difficult to find in society doesn't mean that it cannot be done and that a huge and radical transformation cannot be achieved. What is needed are the correct techniques to use; if they are applied properly, you will be astonished at what you can do…"
~ Belsebuub

More Free eBooks

Subscribe to get email updates on future book news and releases by Belsebuub.

Like the book? Be part of the free flow of spirituality in the world – pass it on…

.
.
.
.

.

About the Author

Belsebuub is the author of a number of books on out-of-body experiences, dreams, self-knowledge, and esoteric wisdom including A Course in Astral Travel and Dreams which became a bestseller in its genre. His book Gazing into the Eternal was finalist in the Best Book Awards 2009 in spirituality, and he has appeared on over 60 radio and television programs internationally.